Decarbonising Transport: Towards a catalogue of effective measures
Session
Wed, 05/22/2019 -

12:45

to

13:45
The ITF's Decarbonising Transport initiative is a global, data-driven, multi-stakeholder initiative of over 70 key stakeholders to support the transition to carbon neutral transport. It is the ITF's major contribution to better understanding of how to ensure a low-carbon future for transport.
This initiative aims to build capacity to help close the gaps between climate commitments and carbon dioxide (CO2) reductions that mitigation actions will deliver on their strategic objectives by providing the best possible assessment of the impact of given mitigation policies.
This session will feature the ITF's Decarbonising Transport initiative and the various related project outcomes; it  will highlight existing and upcoming work streams and activities across different topics and regions.
Key facts:
Transport activity currently contributes 23% of global CO2 emissions from fossil fuels. This share is expected to rise over coming years.
Motorised mobility in cities is set to double between 2015 and 2050, rising by 41% to 2030 and 94% by 2050.
Key questions:
What are the potential political pathways towards achieving decarbonisation of transport?
What are the roles of the different transport stakeholders in achieving our goals?
As we move forward, how can we take stock and positively inform the next round of Nationally Determined Contributions (NDCs), due in 2020?
Background:
ITF Decarbonising Transport initiative
Stientje van Veldhoven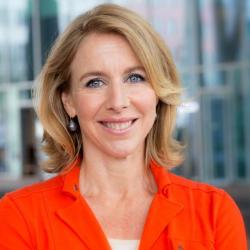 State Secretary for Infrastructure and Water Management
Stientje van Veldhoven began her career in 1997 as personal assistant to Elly Plooij van Gorsel, a member of the European Parliament for the People's Party for Freedom and Democracy (VVD). From 1999 to 2003 she served as an innovation policy officer at the Ministry of Economic Affairs. From 2003 she worked at the Permanent Representation of the Netherlands to the European Union as first secretary for research policy and as scientific and technological attaché. In 2007 Ms Van Veldhoven became a policy advisor at the European Commission, focusing on the coordination of intergovernmental initiatives. From 2009 to 2010 she was unit coordinator for the Zuidvleugel Randstad region at the Ministry of Economic Affairs. On 17 June 2010 Ms Van Veldhoven became a member of the House of Representatives for Democrats '66 (D66), with policy responsibility for issues including sustainability, mobility, climate and energy, development cooperation, and agriculture, nature and food quality. From 2012 to 2017 she served as a member of the presidium and secretary to the D66 parliamentary party. On 26 October 2017 Stientje van Veldhoven was appointed State Secretary for Infrastructure and Water Management in the third Rutte government.
Umberto de Pretto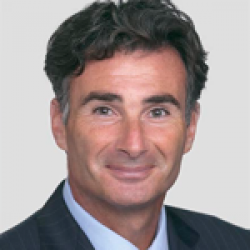 International Road Transport Union (IRU)
Umberto de Pretto is the Secretary General of the International Road Transport Union (IRU). He joined the IRU in 1995 as Head of Economic Affairs. He then became Policy Coordinator and Head of Strategy, and was appointed Deputy Secretary General in 2002. His vision looking forward to 2020 is that the IRU will lead the road transport industry in embracing innovation and making sure that the industry is ready for the challenges and opportunities ahead. After graduating from Ottawa's Carleton University in Political Science, Economics and International Relations, he worked as a Legislative Assistant for Ministers and Members of the Canadian Parliament and then moved to Paris in 1992 to take on the position of Head of the Transport Division, to be shortly afterwards named Deputy Director of the International Chamber of Commerce, responsible for International Commercial Practices and Techniques.
Gloria Hutt Hesse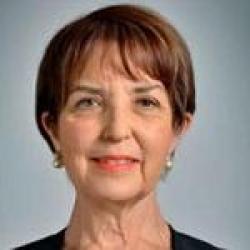 Minister of Transport and Telecommunications, Chile
Ms. Hutt Hesse holds a degree in Civil Engineering from the Catholic University of Chile and she has completed International Finance and Business Administration programs at Georgetown University. She was a Professor for the Master's in Public Policy program in the School of Economics and Business of University of Chile. From June 2014 to January 2018, she was a partner of Quiz Consulting, specializing in transportation studies. She was a member of the board of directors of the Mejillones port facilities company Complejo Portuario Mejillones and consultant for the think tank Consejo de Políticas de Infraestructura and think tank Horizontal. For 12 years, Ms. Hutt Hesse was a partner and Regional Director for Latin America at Steer Davies Gleave, a prestigious British consulting firm specializing in transportation. There she was in charge of operations in Chile, Colombia, and Puerto Rico, and later broadened the presence of the company to Brazil and Mexico. She was a founder member and also the coordinator and general manager for the Evópoli political party. From 2010 to 2014 she acted as Transportation Viceminister. During her office, she coordinated the creation of the National Transportation Policy and development master plans for public transportation and national port and rail systems, proposing a long-term vision for Chilean transportation. A year ago Gloria Hutt Hesse became Minister of Transport and Telecommunications in Chile. In her spare time, she does gardening and follows her passion of designing sewing.
Clara de la Torre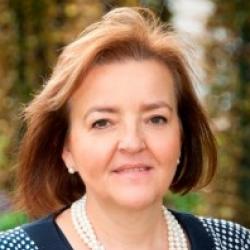 Director, DG Research and Innovation
Since 1 February 2016, Clara de la Torre is appointed Director for 'Transport' in the Directorate-General for Research & Innovation at the European Commission, marking the forth assignment at such position in the course of last 8 years. Previously, starting in 2014, she was responsible for the dossier 'Key Enabling Technologies', following a 3-years' appointment as Director in the field of 'Research and Innovation.'  In her first post as a Director, from 2008 to 2010, she was in charge of 'Inter-institutional and legal matters related to the Framework Programme' at the European Commission.
After a couple of years in private sector, her professional career was focussing on the research policies which became the springboard to working opportunities at the European Commission in 1987. In the late 90's, she was dealing with 'National Research Policies & Intergovernmental Cooperation.' She was also working at the EU Joint Research Centre both in Brussels and Seville, where she was Advisor to the Director of the Institute for Prospective Technological Studies. 
Clara de la Torre has a degree in Economics and Business Administration from the Universidad Autónoma of Madrid.
Sharon Masterson
Manager, Corporate Partnership Board
International Transport Forum
With over 20 years' international experience in the technology and transportation and sectors, Sharon Masterson currently works with the International Transport Forum (ITF)  at the Organisation for Economic Cooperation and Development (OECD), an intergovernmental organisation of 59 member countries to facilitate global dialogue for better transport. In her role with the Corporate Partnership Board, the ITF's platform for engaging with the private sector, she works with leading global enterprises to ensure transport policy discussions are enriched with a business perspective. Prior to joining the OECD in 2009, she spent ten years in commercial and operational management positions in Groupe Air France, Paris and Dublin and worked as Area Manager Benelux for a company supporting US tech companies launch in Europe. She worked as Business Development Manager in a tech startup and has also spent a number of years in Germany at Würth GmbH & Co. KG.
James Grabert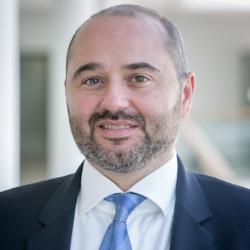 Director, Sustainable Development Mechanisms Programme
United Nations Climate Change Secretariat (UNFCCC)
Mr. Grabert has worked for the United Nations Climate Change Secretariat (UNFCCC) for more than 20 years. He heads the Sustainable Development Mechanisms Programme of the UNFCCC, leading the work on market-based approaches to climate change mitigation. Prior to 2006 he served as a greenhouse gas emissions specialist and worked in numerous expert groups of the United Nation's Intergovernmental Panel on Climate Change. In addition, he also currently leads the secretariat's work on Global Climate Action in supporting Non-State-Actors' efforts towards the Paris Agreement. Before joining the United Nations, he was an industry and regional analyst for the World Economic Forum in Geneva, Switzerland.
Mr. Grabert holds a B.A. in Economics and International Relations from Wheaton College, Masters of International Economics from the Institut de Hautes Études Internationales in Geneva, and has undertaken post-graduate studies in Management at Stanford University, University of Navarra (IESE) and London Business School, and in Development at Harvard University.