Governance of new mobility
Ministerial Event
Wed, 05/22/2019 -

16:45

to

18:15
Unprecedented innovation in passenger mobility transport services over the last decade has drastically changed around the world. Traditional centralised transport service provision, based around collective public transport services and taxis has been supplemented or replaced by new forms of services based on cheap and widely available telecommunications that provide decentralised and more personalised services to clients.
This transformational change has impacted traditional transportation services around the world and led to questions on how best to provide the right level of governance for these new services. Jurisdiction of these new forms of mobility varies from country to country or even city to city, and in some cases, being ignored by both. The provision of new mobility also provides potential opportunities to governments to formulate new economic, social and environmental policies, including increasing employment in key sectors of innovation.
In order to both enable and ensure the sustainable development of the mobility system, there are a number of well-defined areas in which governments intervene. These can be clustered into three broad headings of "public policy", "market failure" and "investment as policy". In this new mobility landscape, authorities become just one planning and arbitration actor amongst others, although they still have to cover market failures. Private entities or agents can act as service providers; however, governments may still be held accountable for services, performance, and responsibility, especially if things go wrong. The governance of the "Smart Mobility" transition may need to simultaneously address the "why" (the public policy function), "what" (the rules of the game), "who" (the networks of actors and their position, power and objectives) and "how" (the manner in which the public is involved and accountability and transparency are guaranteed). In assessing the need for changes to transport system governance to anticipate the impact of new mobility, governments also need to consider how these innovations could be used to support broader policy objectives and benefit their citizens.
This roundtable serves as a platform for transport Ministers to focus on some of the aforementioned issues with colleague Ministers, and stakeholders.
Suggested topics for discussion include:
How can governments fulfil their obligations to ensure new mobility options are safe, inclusive, efficient and promote welfare for travellers without imposing additional barriers to innovation and delivery? How can more dynamic forms of mobility that are less centred on traditional transport hubs change infrastructure planning processes?

How might governments develop strategies that enable the benefits from new mobility to be realised whilst managing potential risks? How do we ensure that we identify the benefits and risks from new mobility? (e.g. Data privacy)

What levers, including financial or regulatory, do governments have to influence or improve outcomes under new mobility?

What kind of best practice can be shared across countries?

How can we ensure that the individual interests of "Smart mobility" companies do not collide with the interests of better access and less congestion in urban and rural areas? How do   states or supranational governments allow competition and whilst maintaining accountability?
Background reading:
Axel Threlfall
Axel Threlfall is Editor-at-Large, Reuters, based in London. Alongside his editorial duties, he hosts high-profile engagements and thought leadership events for and on behalf of Reuters and Thomson Reuters, such as the Newsmaker series and the World Economic Forum news programs in Davos. He was previously Lead European Anchor for Reuters Digital Video. Prior to joining Reuters, Axel spent four years as an anchor for CNBC in London. Before that, he was an editor with The Wall Street Journal in New York and a news reporter for Bloomberg in London. He has also advised businesses and NGOs on their dealings with the international media. Axel is frequently asked to moderate events for international organizations, including the United Nations and the OECD. He has a BA in History from Durham University and a postgraduate degree in journalism from City University, London.
Elaine L. Chao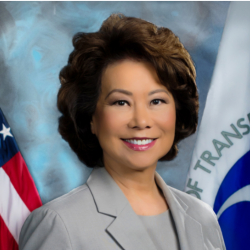 Secretary of Transportation, United States of America
Secretary Elaine L. Chao is the U.S. Secretary of Transportation. She also served as U.S. Secretary of Labor, the first Asian American woman appointed to the President's cabinet in American history. Prior to the Department of Labor, Secretary Chao was President and Chief Executive Officer of United Way of America.
She has also served as Deputy Maritime Administrator; Chairman of the Federal Maritime Commission; Deputy U.S. Secretary of Transportation; and, Director of the Peace Corps.  She earned her MBA from the Harvard Business School.
Li Xiaopeng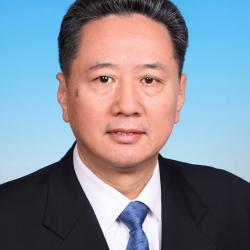 Minister of Transport of P.R. China
Li Xiaopeng is serving as the Minister of Transport of the P.R. China. He is the former chief executive of China Huaneng Group, a power generation company. He was also Governor of Shanxi between 2012 and 2016.
Alexey Semenov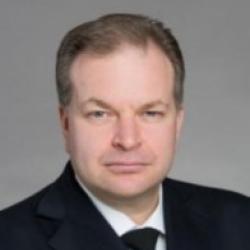 Deputy Minister of Transport, Russian Federation
Kitack Lim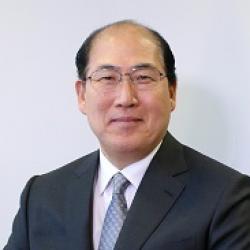 International Maritime Organization (IMO)
Mr. Lim was born in Masan, Gyeongsangnam-do, in the Republic of Korea. He majored in nautical science at the Korea Maritime and Ocean University (KMOU), Busan, graduating in 1977. He worked on ships as a Korean naval officer and for an international shipping company. He joined the Korea Maritime and Port Administration in 1985, while continuing with further studies at the Graduate School of Administration, Yonsei University, obtaining a Master's Degree in 1990.  He then studied maritime administration at the World Maritime University (WMU), graduating with a master's degree. From 1995 he attended a doctoral programme for international law at KMOU, completing course work in 1998.  Mr. Lim began attending IMO meetings as part of the Republic of Korea's delegation in 1986 and he engaged in activities to promote maritime safety through effective implementation of IMO conventions in his country and other IMO Member States in the Asian region. He was elected Chair of IMO's Sub-Committee on Flag State Implementation (FSI - now III) in 2001 and of the Tokyo Memorandum on Port State Control in 2004.  In 2006, Mr. Lim was appointed Director General of the Maritime Safety Bureau of the Ministry of Land, Transport and Maritime Affairs (MLTM) and then as a Senior Maritime Attaché at the Embassy of the Republic of Korea in London and led all IMO work for the Republic of Korea, serving as an Alternate Permanent Representative to IMO up to August 2009. Following that, he was re-appointed Director General for Maritime Safety Bureau (MLTM). In March 2011, Mr. Lim was appointed Commissioner of the Korean Maritime Safety Tribunal (KMST).  In July 2012, he assumed the position of President of Busan Port Authority, until January 2016 when he took up his appointment as Secretary-General of IMO. 
Tālis Linkaits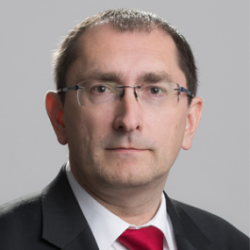 Minister of Transport, Latvia
Gloria Hutt Hesse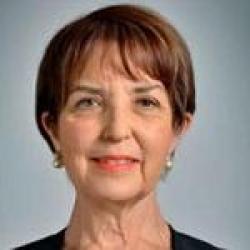 Minister of Transport and Telecommunications, Chile
Ms. Hutt Hesse holds a degree in Civil Engineering from the Catholic University of Chile and she has completed International Finance and Business Administration programs at Georgetown University. She was a Professor for the Master's in Public Policy program in the School of Economics and Business of University of Chile. From June 2014 to January 2018, she was a partner of Quiz Consulting, specializing in transportation studies. She was a member of the board of directors of the Mejillones port facilities company Complejo Portuario Mejillones and consultant for the think tank Consejo de Políticas de Infraestructura and think tank Horizontal. For 12 years, Ms. Hutt Hesse was a partner and Regional Director for Latin America at Steer Davies Gleave, a prestigious British consulting firm specializing in transportation. There she was in charge of operations in Chile, Colombia, and Puerto Rico, and later broadened the presence of the company to Brazil and Mexico. She was a founder member and also the coordinator and general manager for the Evópoli political party. From 2010 to 2014 she acted as Transportation Viceminister. During her office, she coordinated the creation of the National Transportation Policy and development master plans for public transportation and national port and rail systems, proposing a long-term vision for Chilean transportation. A year ago Gloria Hutt Hesse became Minister of Transport and Telecommunications in Chile. In her spare time, she does gardening and follows her passion of designing sewing.
Melinda Hanson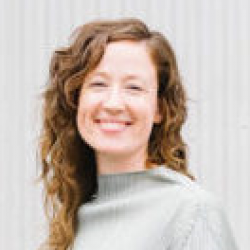 Senior Manager for Sustainability
Melinda Hanson, Senior Manager for Sustainability, joined Bird from the National Association of City Transportation Officials, where she served as deputy director of NACTO's international programs. Before that, Melinda was a consultant for the Asian Development Bank, helping design and implement public transit projects in Pakistan and the Philippines. Earlier in her career, she was a founding staff member of the ClimateWorks Foundation where she managed the sustainable transport portfolio
Tomas Eneroth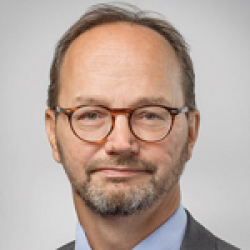 Minister for Infrastructure, Sweden
Tomas Eneroth is Minister for Infrastructure of Sweden since July 2017, responsible for transport and infrastructure in the Ministry of Enterprise and Innovation. He studied sociology and political science at Växjö University College. Before being appointed Minister for Infrastructure Mr Eneroth was Parliamentary Group Leader for the Social Democratic Party (2014–2017). Mr Eneroth has been a Member of Parliament since 1994 and during this time he has filled several different positions in different policy areas, including Chairman of the Committee on Social Insurance and Deputy Chairman of the Committee on Industry and Trade. He was a political adviser in the Ministry of Education between 1996 and 2002, and State Secretary in the same Ministry in 1999.
Violeta Bulc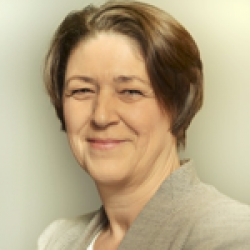 European Commissioner for Mobility and Transport
Violeta Bulc is the European Commissioner for Mobility and Transport. She has been appointed to the office in November 2014. As Commissioner, Ms Bulc has placed priority on digitalisation and innovation in transport. Ms Bulc brings a diverse set of expertise and professional experiences to the role. Immediately prior to her appointment to the European Commission, she was the Deputy Prime Minister of Slovenia, with ministerial responsibility for development, strategic projects and cohesion. From 2013 to 2014, Bulc was Chief of the Program Committee of the SMC Party, Slovenia. She was also CEO of Vibacom Ltd, Sustainable Strategies and Innovation Ecosystems from 2000 to 2014. Between 1999 and 2000 she was Vice-President of Telemach, a telecommunications provider. A Slovenian citizen, Violeta Bulc earned a Bachelor's degree in Computer Science and Informatics at the Faculty of Electrical Engineering, University of Ljubljana, Slovenia, as well as a Master's degree in Information Technology at the Golden Gate University of San Francisco.
Jaeho Lee
Director of Digital Economy Institute
Jaeho Lee has been a Director of Digital Economy Institute of Kakao Mobility. The company is the number one mobility platform of Republic of Korea, providing services of taxi hailing, navigation, parking, designated driver, and electric bike sharing. As of April 2019, the number of registered users is more than 22 million.  
Jaeho is also a member of the Technology Commercialization Advisory Board and the Industry-Academia Networks Forum of Korean Government. He worked for Hyundai Research Institute, Hyundai Motor Company, and LGCNS as an economist and consultant. His specialties include digital economy, O2O business, automotive industry, and industrial policies. 
Michio Kikuchi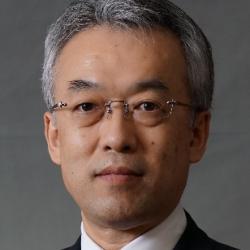 Vice-Minister for Engineering Affairs, Japan
Ministry of Land, Infrastructure, Transport and Tourism
Mr. Michio Kikuchi was appointed as Vice-Minister for Engineering Affairs for the Ministry of Land, Infrastructure, Transport, and Tourism (MLIT) of Japan in July 2018. Having joined the Ministry of Transport in April 1985, he has held senior leadership positions mainly in Ports and Harbours Bureau. He holds a Master of Science in Civil Engineering.
Rafał Weber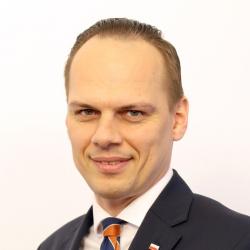 Ministry of Infrastructure of the Republic of Poland
Rafał Weber is responsible for matters related to road transport, public roads and road safety. Since 2015, he is a member of the Parliament. There, he is a member of the parliamentary committee of infrastructure and national defense commissions.
From 2014 he was the deputy director of the Provincial Traffic Center in Tarnobrzeg (Poland). In 2010-2014 and 2014-2015, the councilor of the City Council in Stalowa Wola (Poland). Mr. Weber is a graduate of the Higher School of Law and Administration in Rzeszów (Poland)
Chris Grayling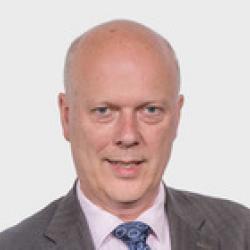 Secretary of State for Transport, United Kingdom
Chris Grayling was appointed as Secretary of State for Transport on 14 July 2016. He was elected Conservative MP for Epsom and Ewell in 2001.
 Chris served as Minister of State at the Department for Work and Pensions from May 2010 until September 2012. He was Lord Chancellor and Secretary of State for Justice from September 2012 until May 2015, and Lord President of the Council and Leader of the House of Commons from May 2015 until 14 July 2016. He also held a number of shadow front bench posts, including Shadow Home Secretary and Shadow Secretary of State for Transport.
 Chris was educated at The Royal Grammar School, High Wycombe and Sidney Sussex College, Cambridge, where he studied history.
Jeong Ryeol Kim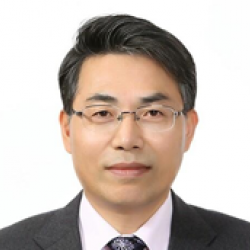 Vice Minister for Transport, Korea
Ministry of Land, Infrastructure and Transport
Mr. Jeong Ryeol Kim was appointed as Vice Minister for Transport, Ministry of Land, Infrastructure and Transport of Korea in April 2018. Having joined the Ministry of Land, Infrastructure and Transport from 1989, he has been in senior positions in Transport and Logistics, Road, Public Housing Construction, Policy Planning, as well as Public Agency Relocation departments. He also has experience as visiting professor in Portland State University, USA in 2015, as well as seconded to Urban Housing Office in Gyeonggi Provincial Government, Korea.
David Thiel
David Thiel, General Manager JUMP Berlin, joined Uber in 2014 and held several positions at Uber in Germany, Switzerland and The Netherlands. He introduced new business models, led EMEA product operations and most recently launched the JUMP bicycles business in Germany. Prior to Uber, David gained experience in automotive industry focusing on quality and lean methodologies at Toyota and Porsche Consulting. He holds a degree in Aerospace Engineering and Business Administration.
Maurice Geraets
Managing Director NXP Semiconductors Netherlands B. V.
Maurice Geraets MSc MBA is statutory director for the main legal entity of NXP Semiconductors world wide: NXP Semiconductors Netherlands B.V., with a yearly financial revenue of multi billion USD. Mr Geraets has 25 years of experience in the IT and electronics industry and works at NXP Semiconductors since 2002. In his current position he focuses on disruptive innovations for 'secure connections for a smarter world'. This concerns e.g. intelligent transport systems (ITS) and automated driving. Next to his role at NXP, Maurice is active in the governance of the 1 billion Euro Dutch SmartwayZ program, is board member of several associations on automotive and mobility, is member of the High Level ITS Advisory Group to the European Commission and is member of the management committee of the European public private partnership AENEAS.
Before joining NXP, Mr. Geraets held positions as Business Manager In-Product Software and Global Client Manager with Atos, the largest European IT services company. In his Global Client Manager role, he was also responsible for the largest part of the Atos business in Asia. In his early working life Mr. Geraets served as Lieutenant in the Royal Dutch Navy.
Mr. Geraets holds an Executive MBA degree and a Master of Science degree in Computer Science. Mr. Geraets is Dutch and was born in 1968.
Abdulla Belhaif Al-Nuaimi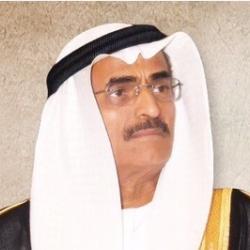 Minister of Infrastructure Development, United Arab Emirates
His Excellency Dr. Eng. Abdulla  Al-Nuaimi joined the Federal Government in 2013 as Minister of infrastructure Development, which is responsible of developing the infrastructure of the federal state road networks and federal buildings (schools, hospitals, government buildings, research centers, cultural and sports centers, police stations and civil defense, housing for the citizens, and other governmental projects).
Beside his responsibilities as a Minister Dr. Eng. Abdulla Al-Nuaimi is Chairman of Sheikh Zayed Housing Program and also he is a Chairman of Federal Transport Authority. 
Dr. Eng. Abdulla Al Nuaimi holds a Ph.D. degree in Construction Management from the University Of Reading, UK (1990), and a Bachelor degree in Mechanical Engineering from the University of Wisconsin in USA (1980). Among his hobbies playing tennis, swimming and reading.