Improving access in cities: Findings from Europe and Latin America
Session
Fri, 05/24/2019 -

09:00

to

10:30
Transport provides citizens with access to goods, services, jobs and other opportunities. Transport planning has typically focused on enabling people to move faster. Accessibility indicators can be powerful tools for helping shift the policy focus from increasing movement to improving access. Clearer metrics and presentational tools could support efforts to put access issues higher in the political agenda, as well as guide decision makers more effectively.
The session will feature findings of a joint ITF, OECD and European Union project to develop a common set of indicators and a benchmarking tool for improving access in European cities. It will also explore the results of applying the methodology to Latin American cases.
Key facts:
ITF's accessibility indicators show that five million Europeans, 8% of everyone on urban commuting zones, cannot reach a hospital in 30 minutes.
Transport for London (TfL) reports that the use of access indices was fundamental to doubling the modal share of public transport between 1995 and 2012.
In many cities, formal transport systems co-exist with informal and quasi-informal ones. For example, in Mexico City, more than 11 million trips per day are made on informal buses. Including these informal modes of transport in accessibility indicators is essential, requiring new and alternative data sources.
Lead questions:
If "you can't manage what you don't measure", what indicators of success in delivering access should we be providing to decision-makers?
Which European cities are most accessible and why?
How successful are Latin American cities in ensuring equitable access to employment and basic services?
How do transit-oriented demand policies measure up in enhancing accessibility across metropolitan areas?
Background reading:
Access and Safety in European Cities, ITF 2019, https://www.itf-oecd.org/accessibility-and-safety-european-cities
The State of European Cities 2016, European Commission 2016, https://ec.europa.eu/regional_policy/en/policy/themes/urban-development/cities-report/
Towards harmonized indicators on access to urban public transport in Europe, European Commission 2016, https://ec.europa.eu/regional_policy/sources/conferences/udn_brussels_2016/7.1%20Hugo%20Poelman%20Regio.pdf
COST Action on Accessibility Instruments for Planning Practice, European Science Foundation 2012, http://www.accessibilityplanning.eu/wp-content/uploads/2012/10/COST-Report-1-FINAL.pdf

¿Qué implica la accesibilidad en el diseño e implementación de políticas públicas urbanas?: Concepto, instrumentos para su evaluación y su rol en la planificación de la movilidad urbana, IDB 2018,

https://publications.iadb.org/en/que-implica-la-accesibilidad-en-el-diseno-e-implementacion-de-politicas-publicas-urbanas-concepto   
Equal Access to Opportunities: Expanding Transportation Choices in the Global South, World Resources Institute, 2019.
Ali Aslan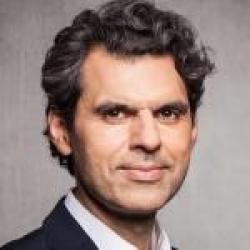 Ali Aslan is an international television presenter, moderator and journalist. His career has included working for global news networks such as CNN, ABC News, Channel News Asia and Deutsche Welle TV.
Philipp Rode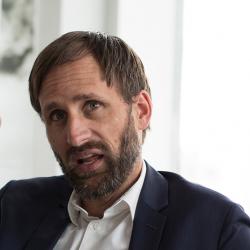 Executive Director of LSE Cities and Associate Professorial Research Fellow
The London School of Economics and Political Science
Philipp Rode is Executive Director of LSE Cities and Associate Professorial Research Fellow at LSE. He is co-director of the LSE Executive MSc in Cities and co-convenes the LSE Sociology Course on 'City Making: The Politics of Urban Form'. As researcher, consultant and advisor he has been directing interdisciplinary projects comprising urban governance, transport, city planning and urban design at LSE since 2003. The focus of his current work is on institutional structures and governance capacities of cities and on sustainable urban development, transport and mobility. He is co-directing the cities workstream of the Global Commission on the Economy and Climate and has co-led the United Nations Habitat III Policy Unit on Urban Governance. He has previously led the coordination of the chapters on Green Cities and Green Buildings for the United Nations Environment Programme's Green Economy Report. Dr Rode is Executive Director of the Urban Age Programme and since 2005 organised Urban Age conferences in over a dozen world cities bringing together political leaders, city mayors, urban practitioners, private sector representatives and academic experts. He manages the Urban Age research efforts and recently co-authored Towards New Urban Mobility: The case of London and Berlin (2015), Cities and Energy: Urban morphology and heat energy demand (2014), Going Green: How cities are leading the green economy (2012) and Transforming Urban Economies (2013). He has previously worked on several multidisciplinary research and consultancy projects in New York and Berlin and was awarded the Schinkel Urban Design Prize 2000.
Lewis Dijkstra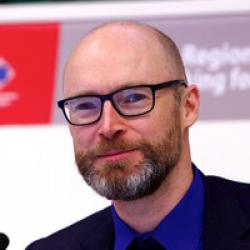 Head of the Economic Analysis Sector at DG for Regional and Urban Policy
Clayton Lane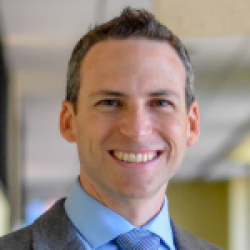 Director of Business Development
Clayton has 20 years of experience as a social entrepreneur, mobility expert, and international executive. He is a collaborator, communicator, and builder. Clayton co-founded PhillyCarShare and grew it to become the largest regional car-sharing system in the world, serving 50,000 members, nearly 500 vehicles, and achieving ~90% market share. PhillyCarShare displaced about 20,000 cars, reduced driving by ~50 million miles, and avoided ~46,000 tons of CO2. The company received accolades as a Harvard Innovation in American Government finalist, Best Places to Work, and EPA's prestigious Environmental Achievement. More recently as CEO of ITDP, COO of EMBARQ, and Deputy Director of WRI Cities, Clayton has led 100-200 passionate professionals to influence mobility policy & plans in over 50 cities of Brazil, China, India, Indonesia, Kenya, Mexico, Peru, Turkey, and the U.S. Clayton has played key roles in raising over $100 million; leading strategy; and forging partnerships with governments, banks, UN agencies, NGOs & companies. He also has overseen top-notch research teams authoring the "Bike Share Planning Guide" and BRT and TOD Standards. Outcomes have tangibly improved lives -- from bike sharing in Tianjin and Guangzhou, to complete streets in Chennai, to Mexico's groundbreaking climate policy. Clayton's background is city planning and mobility. He currently advises WhereIsMyTransport on data strategy and international partnerships -- empowering people and cities to access opportunity in greener, safer, inclusive mobility. He speaks regularly at high-profile international events. Most recently, he played a key role in developing the Shared Mobility Principles. Clayton began his career as a transport planner with PB, where he led BRT & rail plans; and estimated ridership, costs, and economic impact. Clayton holds two Masters degrees from MIT in transport and city planning. He loves cities, technology & culture, and enjoys dancing salsa, photography, and triathlons.
Sergio Avelleda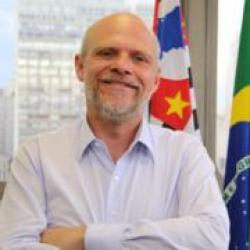 WRI Ross Center For Sustainable Cities
Sergio Avelleda is the Director of Urban Mobility at WRI Ross Center for Sustainable Cities. Before joining WRI, Sergio was the Secretary of Mobility and Transport in São Paulo, Brazil, where he was responsible for managing traffic challenges and the most extensive bus system in the world. He led more than five thousand people and spearheaded city implementation of Vision Zero programs to reduce traffic fatalities. Sergio was additionally in charge of taxi regulation and transport mobile apps, as well as the management of the freight transport system. He was president of the São Paulo Metropolitan Company, which transports 4.5 million people daily on four subway lines. Sergio changed how the company interacted with its users, incorporating SMS reporting and other programs, which were awarded by UITP. During his period, the company was constructing three new lines at the same time, and he led the negotiation with multilateral agencies. Prior, he had been president of the suburban trains companies in São Paulo (CPTM), a company with more than 8,000 employees and an annual revenue of $800 million. CPTM serves 22 municipalities, providing transportation for 2.1 million passengers per day. Sergio is a lawyer, and he received his MBA in 2012, at the Insper – Instituto de Ensino e Pesquisa in São Paulo. He is a cyclist and is passionate about connecting people in cities.
Aimée Aguilar Jaber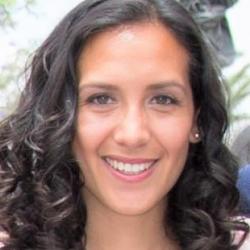 Team Leader-Climate Change Mitigation, Environment Directorate
Aimée is in charge of leading work on Climate Change Mitigation in the Climate, Biodiversity and Water Division of the Environment Directorate, at the OECD. Current work includes the development of the report "Climate Change Mitigation through a Well-being Lens", which discusses how adopting a well-being lens changes the perspective on climate  policy approaches across different economic sectors (electricity, heavy industry, residential, transport and agriculture).  Other work includes supporting countries in the development of Long-term Low-emission Development Strategies (LT-LEDS).
Before joining the Environment Directorate, Aimee was an Economist at the International Transport Forum at the OECD. She was in charge of developing case specific studies and roundtable meetings in a range of subjects such as land-use and transport integration; linkages between mobility policies, access improvements and social inclusion; strategies for improving air quality; and metropolitan governance of transport. Aimée also worked previously as part of the Transport Outlook team, analyzing regional and global passenger transport trends. As part of this work she led the development of urban mobility scenarios for different world regions and the analysis of the environmental and health impacts of different urban transport policies. Within the OECD she has also worked in the Governance Directorate, and before joining the OECD she worked in WRI-EMBARQ Mexico.
Aimée has a bachelor degree in Economics from the Centro de Investigación y Docencia Economómicas (CIDE) in Mexico City, a Master's degree in International Political Economy from the University of Warwick in the UK and a "maitrise" in Sustainable Development from Dauphine Univeristé in Paris.
Ernesto Monter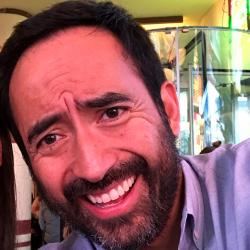 Transport Principal Specialist
Inter-American Development Bank
Ernesto Monter is a Transport Principal Specialist within the Transport Division at the Inter-American Development Bank (IADB).  He is a highly skilled environmental engineer with 25 years of experience as transport and environmental specialist, with a particular focus on sustainability, environmental and social risk management in both the public and private sectors. Ernesto Monter currently leads the preparation and approval of complex loan operations at the IADB, and has spent most of his career assessing projects and seeking solutions to address adverse environmental and social impacts related to complex and challenging projects, mainly on the transport sector.
Dimitrios Papaioannou
Quantitative Policy Analyst
International Transport Forum
Dimitrios joined the International Transport Forum in November 2016. His principal areas of work within the ITF are urban/non-urban passenger models, urban accessibility, and passenger aviation. He is currently in working on the development of ITF's urban and non-urban passenger models, which estimate and forecast transport demand, modal shares, and GHG emissions; and potential decarbonisation pathways. The models and their outputs are used to analyse transport policies and their impacts, and create meaningful policy recommendations. With respect to urban accessibility, he helped develop the Urban Access Framework for the project "Access and Safety in European Cities". This project was funded by the European Commission, and developed an accessibility indicator database for all European cities with populations of over 500,000 people.
Before joining the ITF, Dimitrios completed a PhD in Transportation Systems at the MIT-Portugal Program at the Instituto Superior Técnico. In his dissertation, titled "Assessing  the  relation  between  mode  choice,  user  satisfaction,  and  quality  for  Public  Transport  systems", he developed a set of models addressing the connections between the various elements of public transport systems and user choices and satisfaction. Dimitrios has also worked as a Research Associate in Project Drawdown, an alliance of scientists, researchers, and other stakeholders whose aim is to combat climate change by modelling the effect of existing strategies regarding how to reduce GHG emissions, and proposing promising new strategies in this regard.
Dimitrios holds a MEng in Civil Engineering (with a specialization in Transport Planning) from Democritus University of Thrace, Greece, and a PhD Degree in Transportation Systems from the MIT-Portugal Program at the Instituto Superior Técnico, University of Lisbon, Portugal. Dimitrios is a Greek and Canadian national and speaks Greek, English, German, and French.
Tatiana Samsonova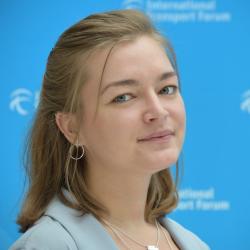 International Transport Forum
Tatiana joined the International Transport Forum in March 2017. Her work at the ITF has a focus on metropolitan governance of transport, urban mobility, access and safety as well as regulatory matters related to app-based mobility services. Within the accessibility line of work, Tatiana has contributed to the extension of the ITF Urban Access Framework initially developed for benchmarking accessibility levels in cities across Europe to Latin American region. Currently Tatiana is managing ITF work related to urban accessibility, a project on Zero Car Growth as well as organisation of 2019 Pre-Summit Research day in partnership with WCTRS, ECTRI and TRB.
Before joining the ITF, Tatiana spent a year working as GIS Analyst at the STT Group. There, she worked on the analysis of spatial data and contributed to the development of a methodology for monitoring of critical transport infrastructure. Before that, Tatiana was engaged in the work of HABIDATUM, a data analytics company assisting policymakers in understanding urban environment. There Tatiana has worked on a development of a visualization tool for the analysis of mobility patterns in Greater Moscow based on cell phone data.
Tatiana holds a Master Degree in Urban Governance from Sciences Po (Paris) and a Master and Bachelor Degree in Geography from Lomonosov Moscow State University. She is Russian national and speaks Russian, English and French.