ITF Awards
Body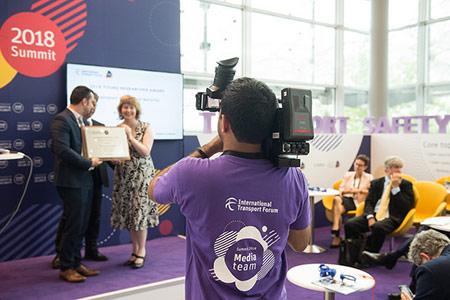 Transport plays a central role for societies that seek to ensure economically and environmentally sustainable prosperity with the benefits more equally shared among all citizens.
Each year, the International Transport Forum honours exceptional initiatives in the transport sector with its annual Transport Awards, awarded at the ITF Annual Summit. ITF 2019 Summit will focus on the theme Transport Connectivity for Regional Integration. It will explore what makes transport links work and how to improve connectivity.
There will be two awards – the Transport Achievement Award and the Young Researcher of the Year Award.
The winners of the Awards will be invited to the 2019 Summit where they will be offered the opportunity to present their project to the high-level international audience including transport ministers from around the world and other global leaders from business, civil society, media and academia. 
Transport Achievement Award
The 2019 Transport Achievement Award will recognise a demonstrated achievement linked to a significant initiative to improve transport connectivity in the movement of people and/or goods across one or more of the transport modes.
The award aims to encourage continual development and innovation; therefore the initiative must have been in operation for a minimum of 2 years, to allow for the stated attributes and benefits achieved to be adequately supported by quantitative evidence, but not longer than 5 years.
This award is open to any organisation (government and non-government), business or individual within the 59 ITF member countries. Applications from non-member or observer countries are welcome, but can be considered only for "special mention".
Read about the winners of the 2018 Transport Achievement Award
For more information please contact: Assia Djahafi
Young Researcher of the Year Award 
The Young Researcher of the Year Award aims to highlight the importance of transport research for sound transport policy formulation and implementation. Applications are welcome by researchers under 35 years of age who have undertaken their research in an institution, university or consultancy firm from the 59 ITF member countries. The Young Researcher of the Year Award carries a prize of 5 000 euros.
Read about the 2018 winner of the Young Researcher of the Year Award
For more information please contact: Elisabeth Windisch